For the past two weeks, our class has been taking part in an author study on Keiko Kasza. We have learned so much about her and have read as many of her stories as we could get our hands on. We visited her personal page (
http://keikokasza.com/
) and in learning about her, we also discovered her email address. Naturally, the students wanted to write to Keiko in hopes that she would be able to write us back. Keiko Kasza was fantastic and wrote us back the very same day! The students were elated when they read her responses. Since we wrote the email as a class, many of the students asked some very specific questions and made insightful remarks about her books. When she wrote back to us, she addressed each of the students individually - making them feel extra special!
If you get a chance, ask your child to tell you what they have learned about this amazing author. For extra fun, check out some of Keiko's books at your local library or purchase them online!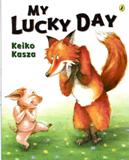 I would like to add a "Keiko Kasza" section to our classroom library. The books are vividly illustrated and now familiar to the students. It would be great for them to be able to access her books on a daily basis. So, now added to our classroom wish list: "Books by Keiko Kasza!" (ps. We already have The Wolf's Chicken Stew).
***Update***
A really HUGE thanks goes out to Mr. Dixon for helping us get our Keiko Kasza section started. We now have "My Lucky Day", "A Mother for Choco", "The Mightiest", "The Rat and the Tiger", and "The Dog Who Cried Wolf", as part of our classroom library! Thank you so much :-)